Jurassic World: Dominion Dominates Fandom Wikis - The Loop
Play Sound
Atsushi Ookawa
Name Kanji
大川 篤 Atsushi Ookawa
Race
Shiki, Corpse demon
Age
30+
Status
Deceased
Gender
Male
First appearance
Anime Debut
Episode 1
Portrayal
Seiyū
Kenichirou Matsuda
Voice Actor
Chris Rager
"I'm sorry, pops! Forgive me, please!"
―Atsushi Ookawa, before being staked to death in the manga.
Appearance
Personality
As the son of the owner of Ookawa's wine shop. He's simple someone give nothing about almost anything and receives strict upbringing from his parents. He is so terrified of his father that he runs from him even after becoming a Shiki botching retribution for Chizuru.
Plot
On August 11, his father receives a call saying that Megumi's gone missing. He tells him that they're going to look for her, but Atsushi says that they should just leave it to the fire department. His father punches him and then is shown going with his son to search the mountain with other villagers, such as Mutou, and Yuuki.
November 5th
As Toshio and Chizuru went through the festival, Atsushi Ookawa and Seishirou Kirishiki watched from a distance.
As Toshio happily smiles to himself as the other villagers discover that Chizuru had no pulse and is cold to the touch, he hears Atsushi Ookawa and Seishirou Kirishiki drive up in their car. Atsushi yells to let go of her and drives the car into the crowd. Tomio stops the car with his hands and the villagers realize that he's come back to life as well. Atsushi turns the car around as he realizes that he can't beat his father.
Death
He's attracted to Chizuru. Later, he also gets bitten by Chizuru and becomes a Shiki.
Undead
As a shiki who was freed from his father's imposing presence, Atsushi soon became intoxicated with his new right to kill humans. When his father knows of his allegiance with the Kirishiki family, he resolves to join with Ozaki Toshio to bring an end to the Shiki and send his son back to the afterlife.
Awakening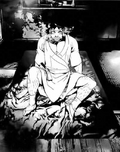 After he awakens as a shiki, he is confused and seemingly frightened. He is confused to where he is and why he is trapped there. He escapes from his room by breaking down his door. Finding the woman who was intended to be used for his food, he believes her to be trapped there as well. Trying to get answers out of her, he accidentally kills her with his new strength.
Horrified at what he just did, Chizuru appears suddenly and comforts him, telling him that they can have fun now, he immediately abandons him initial horror as he believes that he acquired the "special right to kill."
After this, he causes trouble for the other shiki by driving loudly around with Chizuru, though she seemed to be losing interest in him. While Chizuru is teaching him how to hunt, she asks who he would like to bite first and he enthusiastically replies with his grandmother. She asks why not his father and he replies that he wants to get his revenge on him at the end. While luring her out of his old house, he accidently lets her see him and screams for his father. In a panic, he accidentally kills her by breaking her neck.
The End
In retaliation against Toshio's murder of Chizuru, Atsushi breaks into Toshio's house and kill his mother. Soon later, he was found out by his father and staked to death by him.
Family
Trivia
He was very intimidated by his dad, and continued to fear him even after becoming a shiki.
He was one of the men that was attracted to Mistress Kirishiki.
Anime Appearances
References