Natsuno Yuuki's Story

Part 8 ~ Night

Name Kanji

夜

Volume

4

Release Date

January 2009

←

Prev

Current

Next

→
October 5, Wednesday, Senshou
Natsuno hears tapping on his window late at night. He fears the shiki have come for him like they did Tooru. Is it Megumi? or that guy he clubbed in the forest? Then he hears a voice, so he opens the window to find... Tooru. They stare in shock at each other for a moment, then Tooru runs off into the woods. Natsuno dashes after him. 
Meanwhile, at the Ozaki Clinic, Dr. Ozaki and Seishin have just witnessed the death of Setsuko after she was fed on by a group of shiki, led by Tatsumi and Nao.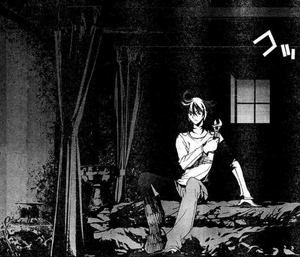 Hearing that Natsuno is also to be attacked tonight, Megumi rushes from the clinic to Natsuno's house, hoping to feed on Natsuno instead of Tooru doing it. She finds Tooru, heartbroken over having been ordered to attack his friend. She goes out to Natsuno, but Tatsumi is already there. Tatsumi is very friendly towards Natsuno, and explains the situation. Then he invites Megumi to come forward and feed. Natsuno gets ready to run for it, but is grabbed from behind by Tooru, who bares fangs and bites.
Character Appearances
References