Natsuno Yuuki's Story
Part 9 ~ Coffin
Name Kanji

柩

Volume

5

Release Date

April 2009

←

Prev

Current

Next

→
Yoshikazu Tanaka is concerned with how many people have quit work at the town hall. The replacement people only work in the evening.
Saturday, October 8, Shakku
Akira and Kaori meet Natsuno at the playground. He's gotten shy, and doesn't want to help them any longer with the shiki which they have discovered the truth about. He tells them just to run away. Then they notice the bite marks on Natsuno's neck. He tells them that the entire village is going to be converted, and that they can expect to be attacked that night. He gives them money, and gets them onto the bus.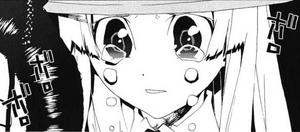 Tooru comes for Natsuno that night, along with Shizuka Matsuo. She's mad at him for failing to hypnotize Natsuno with directions not to tell anyone. Then she breaks down in tears, afraid of being hunted and killed.
Natsuno is waiting outside for Tooru. They discuss the ethics of shiki killing humans, as if it's the same as humans eating pigs and cattle. This is how Sunako has exlained it to everyone. Natsuno pulls a wooden steak, but he can't bring himself to attack Tohru any more that Tohru could attack him. This causes Tohru to erupt with crying, but the hunger is too great, and he feeds on Natsuno.
Character Appearances
References