Jurassic World: Dominion Dominates Fandom Wikis - The Loop
Play Sound
Toshio Ozaki's Story

Part 6 ~ Skull and Suffering

Volume

6

Release Date

July 2009

←

Prev

Current

Next

→
Monday, October 10, Tomobiki
Seishin takes his father Shinmei to visit Tokujirou. At Tokujirou's home, the two old men have little to say to each other, and Shinmei soon leaves.
At Ozaki Clinic, Dr. Ozaki tends to his wife, as she lays dying from anemia brought on by shiki attacks. He is already musing about the experiments that he intends to perform on her.  That night, Tatsumi comes and finishes her off.
Tuesday, October 11, Senbu
At the temple, they notice that Tsurumi appears to be ill. 
The doctor makes it look like his wife is still alive, and tells everyone that he alone will see to her needs. He still isn't sleeping much, walking the corridors as if in a daze.
A few days later, nurse Satoko arrives at the clinic in street clothes. She says that nurse Yuki is missing. She didn't return home from work the day before.
Thursday, October 13, Taian
Seishin tells Shinmai that Tokujirou has passed away. Shinmei gives Seishin a letter that he wrote to the Kirishiki.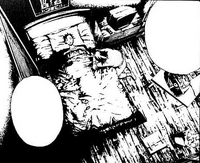 Friday, October 14, Shakku
The doctor continues to monitor his wife. That night, the brain-wave monitors show activity, and she rises from the bed.
Character Appearances
References