Toshio Ozaki's Story

Part 9 ~ Coffin

Volume

8

Release Date

March 2010

←

Prev

Current

Next

→
Monday, October 31, Taian
Tatsumi checks out the home where Iwao Maeda the shiki was living. The last time Tatsumi was here, he left Akira Tanaka tied up for Iwao to find. Both are missing, but Tatsumi detects the scent of someone else, and thinks he knows who it is.
Tuesday, November 1, Shakku
At Kanemasa, the Kirishiki has a family meeting. Yoshie wants to discus Atsushi Ookawa. He revived as shiki a few days ago, and while trying to break out of the hut he killed the human who was left for him to feed on. Then he went tearing around in a car with Chizeru. They went to his old home, and lured his grandmother Namie outside, but instead of feeding on her, he gruesomely murdered her with his bare hands.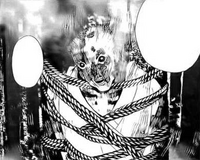 Chizeru doesn't like getting lectured by Yoshi, and rebukes her. Yoshie is in trouble today for letting Yuzuki get badly burned during his punishment. The shiki do not attack children, because it gets their parents so upset and angry that they might become hunters. Yuzuki, the town's former librarian, didn't follow this rule, and had just caused the death of young Takashi Tashiro. As punishment, Yuzuki was tied up in the woods to smolder in the daylight. When they do this, the shade from the trees normally protects the shiki victim from burning to death, but apparently Yuzuki got a bit too much sunlight, and suffered horribly, although he survived. Yoshie was supposed to be watching over him, but had neglected it.
Sunako tells them both off, so that they don't jeopardize their plans for the village.
Chizeru then heads over to the Ozaki Clinic, where Toshio is brooding over Ritsuko's recent death. He flashes a religious symbol of criss-crossed pentagrams, which frightens her away. With that, she swears to kill him.
Character Appearances
References