Natsuno Yuuki's Story

Part 3 ~ Disaster

Name Kanji
結城夏野編 第惨話

"Yūki Natsuno Hen, Dai Mugo Wa"

Volume

2

Release Date

March 2008

←

Prev

Current

Next

→
August 29, Monday, Taian
Munehide Murasako phones Seishin and lets him know that Kenji Oota has passed away. That makes 12 on Seishin's list of the dead. Masaki Tashiro then phones to say that officer Takami has died as well. 
September 1, Thursday, Tomobiki
Ritsuko goes to Creole, the coffee shop, for lunch, finding Masaki there. Hasegawa, the barrista, asks her about Takami. Takami's wife and two kids packed up into what looks like Tatsumi's moving van and left town the night after Takami died. The new police officer is named Sasaki. The Shinoda family also moved out one night, using the same van. 
September 7, Tuesday, Senbu
Mikiyasu's parents Tokujiro and Setsuko summon Dr. Ozaki to check on their grandson Susumu, who couldn't be awakened this morning. Mikiyasu too is showing the first signs of the lethargy that affects those with the mysterious illness. 
Seishin goes for a walk that night, and happens upon Sunako. He gives her a tour of the church which is there on the temple grounds. The stained-glass windows are all violent images of martyrs being slain. The church was built by the Kanemasa residents many years ago, and has since fallen into disuse. They discuss the cruelty of death. 
September 12, Monday, Tomobiki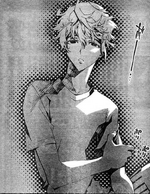 Riding the bus to school, Natsuno hallucinates that Megumi is there with him. He can't sleep at home because of these feelings of her presence, so he has been sleeping at Tooru's place. Tonight, however, he imagines that she is there too. He has a vision of her slithering out from under the bed, baring fangs, and then biting Tooru on the neck. He jumps to stop her, but it's already morning, and no one is there but Tooru. It was surely a dream, for Tooru's neck has no scar. Natsuno fails to notice the bite marks on Tooru's arm.
Gallery
Character Appearances
References