Yuuki Natsuno's Story

Part 16 ~ Skull and Anguish

Name Kanji

髏苦

Volume

11

Release Date
April 2011

(Combined with May release)

←

Prev

Current

Next

→
Monday, November 7, Tomobiki
Hayami rises at sunset where he has hidden in Yamairi. Unfortunately, the house is on fire. Burning, he dashes off into the woods. Motoko Maeda, intent on punishing Iwao, has set the place on fire. As the flames engulf her, she laughs triumphantly at her victory over him.
At the temple, Seishin comes out of hiding. He discovers that his mother and the temple workers have been slaughtered. One of the hunters is there, and slashes Seishin, but then stumbles and falls and is knocked senseless. Bleeding severely, Seishin heads into the woods with the suitcase that still has Sunako inside. He hides the suitcase in some underbrush, and staggers off a short distance before passing out from loss of blood.
In Sotoba, they can see the fire spreading all across the mountainside.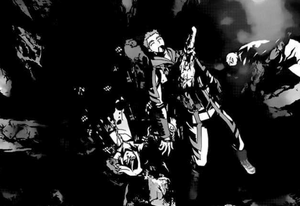 Tatsumi sadly watches the villagers toss bodies of the shiki into a ravine behind the temple. He is then confronted by Natsuno. Tatsumi grabs Natsuno, and moves to throw him down into the ravine. Out of nowhere, Yuuki arrives and shoots Tatsumi with a rifle. Natsuno grabs Tatsumi and leaps into the ravine. As Tatsumi and Natsuno lie dying of injuries from falling onto the rocks below, Tatsumi tells his story, of how he wanted to see the world destroyed.
Sunako awakens and climbs out of the suitcase. The smell of blood leads her to Seishin. The hunters are searching the woods and see her. She runs away, coming upon the abandoned church. As she prays at the altar, Tomio Ookawa enters the church behind her.
Character Appearances
References