The Last Part
Volume

11

←

Prev

Current

Next

→
The Last Part
As the villagers realize that the town is doomed by the oncoming forest fire, Dr. Ozaki sees the outcome as a defeat. The village is destroyed, and the villagers are scattered all across the country.
Tomio finds Sunako praying inside the burning church. She attempts to flee, but he catches her, and stakes her by the hands to the wall. Weeping, she begs for mercy. He is enjoying this, and declares that he won't let her off quickly or painlessly. Out of nowhere, Seishin arrives, his eyes dark in the way of the shiki. He proceeds to and hack Tomio to death with a cleaver.
Sunako is ready to stay and let the fire cleanse her sins from the world. Seishin explains, that as exiles from the human world, such sins and punishments do not apply. They can only walk the endless wasteland of despair. The image of Abel, the younger brother of Cain, was simply a representation of the part of himself which fit in with and was loved by world that he used to live in. That part of him died to despair, forcing Cain from that world to wander the wasteland.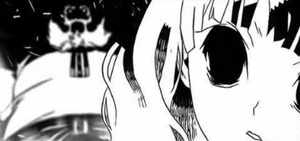 Several months later, in Tokyo, at the publishing company for Seishin, his editor Tsubara has a discussion with a reporter. Seishin's latest book has just been released - titled "Shiki". The reporter is following up on the fire in the village where Seishin lived. Stories of the dead bodies found in the rubble had become a bit of an urban legend. The village survivors don't talk about it, and some suicides had taken place. Seishin had provided the manuscript, and then disappeared. Tsubara has no way to reach him. Staring out the office window, he sees a girl staring at him from the street -- Sunako. She wanders off, meeting up with Seishin down the street, and they disappear into the crowd.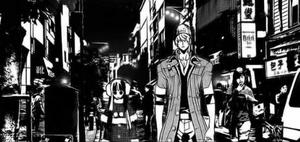 Character Appearances
References
Community content is available under
CC-BY-SA
unless otherwise noted.