Ozaki Toshio's Story

Part 1 ~ Blood Heritage

Name Kanji
尾崎敏夫編 第遺血話

"Ozaki Toshio hen, Dai noko chi wa"

Volume

3

Release Date

June 2008

←

Prev

Current

Next

→
September 19, Monday, Senbu
Hiromi Murasako is dead. In the midst of grieving, the family fails to notice that the strange illness has also taken hold of Masao.
September 20, Tuesday, Butsumetsu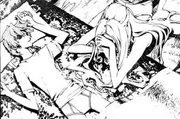 Dr. Ozaki is examining Yoshihide Katou. He was in bed for a couple days with a summer cold, but became so tired that his wife brought him to the clinic. Ozaki sends him to the city hospital, like he's been doing when the outcome appears certain. The nurses are concerned about how overworked Ozaki is. Seishin stops in to see Ozaki. A number of people quit their jobs just before falling ill and dying. Seishin has also noticed that several families packed up and moved away in the night, leaving no contact information. He found 22 families who did that.
Ozaki ponders his father's portrait. He has a vision of the old man berating him for allowing this plague to come upon the village.
That night, Seishin sits in the abandoned church, thinking. Sunako appears. Sunako appears. He autographs one of his books for her. He tells her about the epidemic.
= September 22, Thursday, Shakku
Itou Ikumi sees another funeral procession. She is chatting with Tatsu Takemura on the gossiping bench outside the stationery shop.
Etsuko Gyouda has fallen ill, and is at the clinic. Ozaki tries a full blood transfusion with her. Fujiyo Takano phones in to the clinic and resigns her job there. She is afraid of getting sick, and bursts into tears.
23, Friday, Senshou. Today is the Autumn equinox
Ozaki visits Gyouda at her home. She is feeling really well now. He notices insect bites on her arm, and tells her to come in to the clinic on Saturday. When she doesn't arrive, he phones and talks to her husband.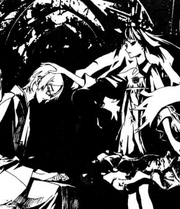 September 28, Tuesday, Shakku
Etsuko Gyouda is dead.
Natsuno confronts Ozaki in the street. He asks the doctor how sure he is that Megumi was really dead.
Character Appearances
References