Toshio Ozaki's Story
Part 2 ~ Rot and Decay
Name Kanji

腐堕

Volume

3

Release Date

September 2008

←

Prev

Current

Next

→
Seishin ponders Dr. Ozaki's theory that the walking dead are the cause of the plague.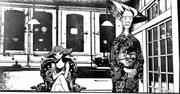 Seishin and the doctor keep watch over Setsuko Yasumori. Seishin relates the plot the the book that he is writing, the story of Cain and Abel. 
October 3, Monday, Taian
The doctor's wife Kyouko visits him at the clinic, with his mother Takae. They are worried about the long hours he is working lately.
Ritsuko prepares dinner to bring to the doctor and Seishin. As she walks over to the clinic with it, she encounters Nao Yasumori, who is headed there as well. Nao becomes as light as air, and floats up to the window of Setsuko's room. The doctor and Seishin see her outside.
Character Appearances
References