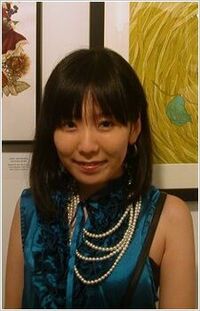 Fuyumi Ono (小野 不由美, Ono Fuyumi) is the Japanese novelist who wrote the novel Shiki. She is best known for writing the Twelve Kingdoms  series of light novels. She is also the writer of the novels for the Ghost Hunt series. 
She was born in Nakatsu, Ōita, Kyūshū, on December 24, 1960. She received a degree in Buddhist Studies from Ōtani University in Kyōto. She married mystery writer Yukito Ayatsuji (綾辻 行人), the pen name for Naoyuki Uchida (内田 直行), changing her name to Fuyumi Uchida, but she continues to use her maiden name for her published works.
In 1988 her first novel, Sleepless on Birthday Eve (バースデイ・イブは眠れない, "bāsudei ibu wa nemurenai') was published by Kodansha.
In 1989 the first book in the Ghost Hunt  series (ゴーストハント "Gōsuto Hanto", originally called 悪霊シリーズ "Akuryō Series") was released. This was an adventure series of light novels for teenage girls. It followed the adventures of 16-year-old Mai Taniyama and her team of psychic researchers as they travelled Japan investigating ghosts. A manga version began in 1998, written and illustrated by Shiho Inada (の作品), and appearing first in Amie magazine, then moving to Nakayoshi magazine. Later chapters were released in stand-alone tankōbon volumes only. The full manga set is 12 volumes. It was published in English by Del Rey from 2005 through 2010, up to volume 11, and inexplicably not doing volume#12. An anime premiered in 2006, running for 25 episodes. Funimation created an English dub of the anime. A live-action movie was planned for 2016, with Yoshitaka Yamaguchi as director, but never made it to the production stage[1].
Beginning in 1992, The Twelve Kingdoms (十二国記, "Jūni Kokuki") novels were published, with art by Akihiro Yamada. The early books told the story of Yoko Nakajima, a Japanese teenager who is magically transported to the land of the twelve kingdoms. The story is deeply rooted in Chinese mythology, in a land of magic and dragons in a medieval setting. Later novels covered other characters and settings throughout the mythical land. An English translation of the first four novels was published by Tokyopop, from 2007 through 2010.  An anime of the early Yoko Nakajima stories was produced beginning in 2002 by Pierrot, running 45 episodes through 2003. From that, an "ani-manga" was published, using images from the show. 
References