Hiromi Murasako
Name Kanji
村迫 博巳 Murasako Hiromi
Race
Human
Age
9[1]
Status
Deceased
Gender
Male
First appearance
Manga Debut
Chapter 1
Anime Debut
Episode 3
Portrayal
Seiyū
Misaki Suzuki
Voice Actor
Maxey Whitehead
"Grandpa! Mom says we should go out for dinner."
―Hiromi
Nephew of Masao and son of Chizuko and Munetaka and older brother of Chika.
On August 26th, Hiromi interrupts Masao to tell his grandfather that they're going out to dinner. Masao, jealous, refuses to go out with the rest of his family.
Though it is forbidden to bite children, he is attacked by Yuzuki along with his uncle.
He is brought to the Ozaki Clinic. On September 19th, he died.
Relationships
Hiromi Murasako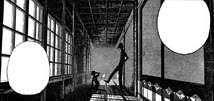 As Masao's father was quite old when he had him, Masao's been coddled most of his life. As soon as Hiromi was born, the family doted on him, making him envious. He is said to bully him and Hiromi often has bruises.[2]
"How about hamburgers...or some yummy fish sticks?"
―Munehide
Munehide seems to be very caring of Hiromi. They get along well, which makes Masao very jealous.
Gallery
Family Tree
Anime Appearances
References
Community content is available under
CC-BY-SA
unless otherwise noted.