Kazuko Ookawa is the wife of Tomio.
November 5th
At 7pm, Kazuko Ookawa is outside putting sake out for the festival. She notices Chizuru Kirishiki and Toshio Ozaki walking through the street happily, as do some other villagers. They both greet her and Toshio introduces Chizuru. They tell her the made up story and Kazuko laughs. She was worried that she'd be strange. She asks about her health, since she can't go into the sunlight. They have a nice conversation and she thinks that she is a cutie.
November 6th
She is seen among the women that save the men. They were making the men supper but came back to find that they were being attacked by humans that were compelled by shiki.
Family Tree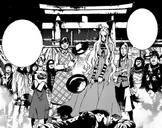 Anime Appearances
Manga Appearances
References