Motoko Maeda



Gender

Female

Age

25+

Hair Color

Blue

Eye Color

Blue

Race

Human

Status

Deceased

Cause of Death

Suicide (Burned)

Relatives

Seiyu

anime debut
Motoko Maeda is also known as Moto-chan to her friends. She is focused on in episode 21.5.
Personality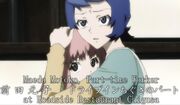 A housewife from Lower Sotoba who works in drive-in Chigusa. She's xenophobic to the point of unhinged mentality, and forbids her children to play near the motorway as she believes the outsiders will take them away. Her conditions visibly worsens after her father-in-law, Iwao, becomes a Shiki and kills her husband, daughter, mother-in-law and culminates in insanity when her son, the last member of the family, is also murdered.
Battle against Shiki's
Later, Motoko joins the Shiki extermination and betrays her friend Kanami's secret (that Kanami's mother Tae is now a Shiki and currently hiding in their house) to the villagers, leading to Tae's death and Kanami's abandonment of the village. She's obsessed with finding Iwao to avenge her children; her efforts are in vain as it's strongly implied that Iwao was already killed by Natsuno.
Death
At the end of the series, she becomes completely mad, and sets fire to the village and herself.
Trivia
Motoko is the second person who becomes insane after all of her family and her children are dead and the first person who commits suicide
Makoto's story parallels Nao's, as she loses more and more of her family she becomes unhinged and desperate, and is incredibly jealous of people who still have living family members.
Motoko Gallery
Community content is available under
CC-BY-SA
unless otherwise noted.