Ryuuji Shimizu
Name Kanji
清水 浩子 Shimizu Hiroko
Race
Shiki
Age
41
Status
Destroyed
Gender
Male
First appearance
Anime Debut
Episode 3
Appearance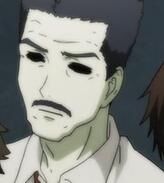 Plot
He lived in Sotoba, but worked in another city.
Death
He died because he was killed by unknown Shiki. Episode 2 says the date was August 23.
Risen
He rose as shiki and joined the Kirishikis in turning all of the village to shiki. He was with the group who raided the Ozaki Clinic to rescue and feed on Setsuko.
In episode 17, Ryuuji and Shuji Gotouda attacked and fed on Ritsuko Kunihiro.
Family Tree
Anime Appearances
References