Shuuji Gotouda
Name Kanji
後藤田 秀司 Gotouda Shuuji
Age
39[1]
Gender
Male
Shuuji Goutouda is the fourth death, and the first death in the main town, as the first three died in Yamairi. He is mentioned in episode 2 as dying August 6. In the novel, he is said to be the first of the villagers to rise.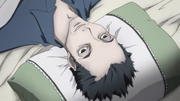 He was said to have passed away from complications from a summer cold. After Seishin chanted scriptures over his body, he went to tell his aunt and uncle that he had passed. He discovered that they had died as well as Gigorou Ookawa.
When Seishirou Kirishiki came to Nao Yasumori's house, she brought Shuuji.
On his way to Natsuno Koide's house, Tooru Mutou says that he seen Shuuji biting his lips. Shikis do this because it has the same affect as alcohol. He did this because he blamed himself for his mother's death. She didn't revive.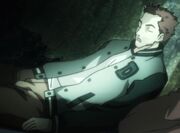 He is encountered in Episode 20.5. He was found hiding in the pipelines along with multiple other Shiki when the humans came in. Believing he was asleep, the humans quickly staked him, only for him to wake up screaming in pain, which in turn alerted the other Shiki to the humans' presence.
Family Tree
Anime Appearances
References