Jurassic World: Dominion Dominates Fandom Wikis - The Loop
Play Sound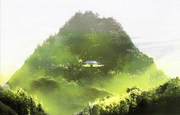 Sotoba (外場) is a village where the Shiki takes place. It is a small village of roughly 1300 people and is surrounded by 3 mountains forming a triangle.
The village is shaped like a long, thin triangle, and the only road that joins it to the outside world is a slip off from the one and only national highway nearby. The village is enclosed by mountains.
A long time ago, the house used to be the residence of a once very powerful man in the village named Kanemasa. However, those people moved out all of the sudden, and after that, a huge stone castle sprung up in its place. The villagers, except Megumi, disliked this house because it doesn't match the village at all.
The village was established during the Edo (1603-1868) period. A wood craftsmen moved into this piece of land belonging to a temple, and that's how the settlement began. Consequently, the villagers leased their land from the temple. Kanemasa leased a whole chunk of the land there and divided it for the villagers. Furthermore, Ozaki was called in to serve as the village doctor. Even now, many of the villagers are still partitioners. When the Kanemasa moved out, the village came under the administration of the prefecture.
One of the Kanamasa built the church where Sunako Kirishiki and Seishin Muroi meet before the war. They used to live when the location of the Kirishiki mansion is now. Kanemasa was the name of the house, but their real name was Takemura.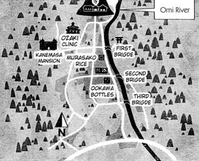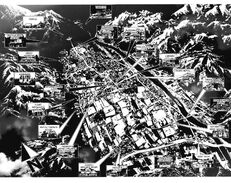 Sotoba is divided into seven districts: Monzen, Upper Kami-Sotoba, Middle Naka-Sotoba, Lower Shita-Sotoba, Sotoba, Mizuguchi, and Yamairi. Sotoba is the primary district with the commercial street.
Mizuguchi Dam
It was built in the Edo period. In the Meido period, it became a vital artery; supplying Mizobe with water.