Tsurumi
Name Kanji
鶴見 Tsurumi
Race
Shiki
Status
Deceased
Gender
Male
Tsurumi is the assistant monk at the Temple. He rides a motorcycle, seen in episode 13.
October 20th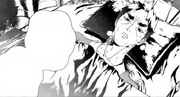 Seishin receives a phone call from Tsurumi's wife. She says that it was due to liver failure. His funeral service had already been held. She tells Seishin that she wanted to tell him earlier, but she couldn't but her husband asked her not to. He said that the temple had it tough as it was without him adding to it. He also asked her to ask the funeral parlour instead of the temple.
He suddenly dies and revives as a Shiki, only to be staked to death.
Anime Appearances
References