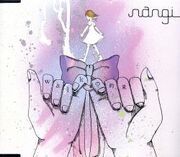 A Walk's Promise (walkの約束,
Walk No Yakusoku
) is the first ending theme in Shiki. It is sung by the band nangi. 
Lyrics by Nangi [1]
Music & arrangement by Atsushi Suemitsu, aka Suemitsu & the Suemith
Piano: Atsushi Suemitsu
Guitar: Shunsuke Suzuki
Bass: Kentaro Nakao (中尾憲太郎)
Drums: Takashi Kashikura (柏倉隆史)
Suemitsu also performed the opening theme "Allegro Cantabile" and second ending theme "Sagittarius" for the anime adaptation of Nodame Cantabile.
Lyrics
大きな夢 目指し歩いていた。
迷い迷って 終わりのない旅。
あの時は雷まじりの雨で。

涙かどうか分からなかった。さよなら もう二度と会えない。

私が、選んだミライヘ また一歩踏み出すよ。
大きな 壁を越えて。
好きだったのにどうして? 「最期だ。」なんて言ったの?
今ではちゃんと分かる。だから ねぇ "Walk" 上手く…。

引っ越しをして新しい窓に、
君と誓った言葉なぞった。あの日の約束は生きてる。

いつかは、知らないミライで 2人が出逢うように。
笑顔を 輝かせて。
冷たい君の肩は 私が暖めるの。
いつでも 守っていて。今は ただ "Walk" 熱く…。

いつの 間にか 私は 強くなれた。
見上げる オリオン 伝えたいよ 君に

Ah また、名前を呼んでいるよ。もうすぐ とどきそうで。

君が、選んだミライ。 私が、探すセカイ。
確かに聞こえてたよ 君も そう "Walk" 強く…。

そう "Walk" 強く…。
いつでも そう "Walk" 強く…。
ooki na yume mezashi aruite ita.
mayoi matotte owari no nai tabi.
ano toki wa yuki-majiri no ame de.
namida ka dou ka wakaranakatta. sayonara mou nido to aenai.

watashi ga, eranda mirai e mata ippo fumidasu yo.
ooki na kabe o koete.
suki datta no ni doushite? "saigo da." nante itta no?
ima de wa chanto wakaru. dakara nee "walk" umaku…

hikkoshi o shite atarashii mado ni,
kimi to chikatta kotoba nazotta. ano hi no yakusoku wa ikiteru.

itsuka wa, shiranai mirai de futari ga deau you ni.
egao o kagayakasete.
tsumetai kimi no kata wa watashi ga atatameru no.
itsudemo mamotte ite. ima wa tada "walk" atsuku…

itsuno manika watashi wa tsuyoku nareta.
miageru orion tsutaetai yo kimi ni

Ah mata, namae o yonde iru yo. mou sugu todokisou de.

kimi ga, eranda mirai. watashi ga, sagasu sekai.
tashika ni kikoeteta yo kimi mo sou "walk" tsuyoku…

sou "walk" tsuyoku…
itsudemo sou "walk" tsuyoku….
Aiming for a great dream, I walked
I get lost and lost on my endless journey
Back then, in the rain mixed with snow
I didn't know if they were tears or not. I bade you goodbye, that we can't ever meet again

I'll take another step forward to the future I chose
Overcoming the great wall
Even though you once loved me, why did you say "it's the end"?
Now I know it very well, so hey, I'll "walk" well…

I moved away, and into my new window
I traced the words I vowed with you. The promise from that day is still alive

So that we'll meet in the unknown future someday
I brighten my smile
I'll warm up your cold shoulders
So protect me always; now I'll just "walk" hotly…

Before I knew it, I was able to become strong
I look up at Orion, and I want to tell you

Ah, I'm calling out your name again. It seems like I'll reach you soon.

It's the future you chose, it's the world I'll search for
I definitely heard it; that's right, you'll also "walk" strong…

That's right, "walk" strong…
Always, that's right, "walk" strong…
References
Community content is available under
CC-BY-SA
unless otherwise noted.